(hi)Plog
Welcome to my Plog
a chronicle of my hip replacement and the first two years of the bionic hip
Note: I am no longer updating this page.
1 October 2007
The flippers are amazing; within a few swims I could feel the difference in the strength in my right leg, particularly when climbing stairs. I've been fairly disciplined about swimming twice a week, sticking to the plan that Cathy has given me, & this week I should break the 1km mark (I've never been a strong swimmer so this is really something, honest!). I haven't been quite so disciplined with the yoga & tai chi, due to being overworked, but I'm getting back into it.
The overwork thing seems impossible to escape. When I don't have any paid work I'm trying to cram in as much study as I can, & now that I do have some paid work, as well as in imminent show, the study slides to the back burner ... I'm also distracted by reading Philippa's book, The Wild Green Yonder, which has just been published - yay!
Apart from all of that, as the weather heats up I find myself under seige - the regular Aussie mozzies have been joined by an army of very small but persistent biting midges and a brigade of flea mercenaries - kangaroo fleas I'm calling these, because they have extremely powerful back legs enabling them to perform miracles such as jump out of water when I'm trying to drown them. The fleas are courtesy of Jaffa Luna the cat ... maybe I should have kept the snake ...
1 August
Long time no plog. My excuse - the trip to Canada for the conference, then home to Wellington for the launch of UpStage V2 and frankly very little time for anything outside of that. Sadly not much time for exercise - and i'm feeling it ... a few weeks ago athy let me try her flippers at the pool and i was shocked to discover i could only go in circles - such is the difference in strength between my two legs! i've now got my own flippers (thanks james & suzon!) and yesterday had another swim with them. i didn't swim too long as i didn't want to overdo it, but still managed to give myself a pain in the right butt. i'm trying to believe that the pain a good sign ... tai chi and yoga have helped to ease it. what i really need to do is maintain a regular exercise regime and get the strength of my right leg up to a level similar to the left leg. easier said than done ...
21 May
Tomorrow i'm off to Montreal, to give a paper at a conference on Intermediality, Theatricality, Performance, (Re)-presentation and the New Media. i've been so busy just finishing assignments that i haven't had time to go swimming, & i can feel it in my body. i've been managing a little bit of tai chi & yoga most days, but once i get back i'm going to have to get back into it, as i think it's what my hip really needs. the joint itself isn't sore anymore (obviously - it's not there) but i'm still getting different muscle pains, limping a bit, & conscious that my right leg is still weaker than the left. undoing a lifetime of habit of favouring that leg is harder than i thought ...
11 March
Brisbane is hot, sweaty & studious. When i'm not swimming 50m laps of the nearby outdoor swimming pool, i'm relaxing in air-conditioned lecture theatres, unpacking paradigms and investigating methodologies. If you want to read about that, check out www.cyberformance.org and my S(tudent)log.
My hip's good but i'm conscious that i am still limping a bit which is annoying ...
18 February
I'm reading my medical notes, which arrived just before I went overseas so I didn't have a chance to read them before. I've learned that my acetabulum was sequentially reamed to a Size 52, while my femur was broached for a a Size 5 reamer and a +1.5 head. The notes also tell me that at the end of the surgery, my skin was closed with staples - which is in fact not true, unless the staples miraculously dissolved. The cover letter says that I have the right to request corrections, but I think I quite like this little imperfection, after all the precise descriptions of everything else. Let it go down in history that I was stapled up - only you and I will know the real truth ...
15 February
Antonella's birthday; days speeding past in a blur; my e-femoral head is so light, white, like chalk - it feels as if it could crumble in my hand. I worry a little bit that it may turn to dust. I worry a little bit that it won't turn to dust. Clare has started a blog, so i thought maybe i should try it too, altho really a plog is more my style ...
11 February 2007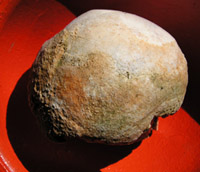 I go away for a few weeks and what happens? My hip turns orange! I'm not sure if this is a good sign or not ...
Anyway, I've been off on my first overseas trip with the bionic hip (Australia hardly counts as overseas) and I'm pleased to report that all went well. I hardly ever set off the metal detectors, and when I did, my explanation was accepted without question. No strip searches, no-one even asked to see my highly official joint replacement card.
There will be an account of my travels somewhere on this site just as soon as I find the time to do it ...
21 November
This is nothing to do with my hip, but i've just finished reading a most excellent novel - "Half Life" by Shelley Jackson. I highly recommend it. And now i'm onto something completely different - "The Quest for Peace" by Eleanor Moore, and early Australian pacifist; here's an interesting extract from it.
4 November
It's going green ...
29 September
It's sunk!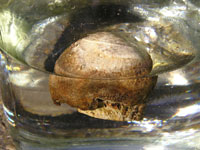 28 September 2006
The first anniversary of my bionic hip : ) and today i ceremoniously cleaned by femoral head and began the water cleansing process as described below. Only problem - i can't immerse her in the water, because she floats! She looks a hell of a lot like a nice big dirty field mushroom. I've taken a series of arty photos of her, suspended in the clear water - but right now too overloaded with deadlines to put them up here. I promise they will come soon! Also noticed a fine hairline crack has appeared in the surface - more mysterious symbols? It is like a landscape, a landscape of the interior, now exposed to the elements ...
22 September
Yesterday I had my first one-year check-up. I spent three quarters of an hour waiting to have x-rays, and finished my book in 15 minutes. Then the xrays, then waiting in another waiting room, & about an hour and a half after arriving at the hospital I saw a registrar (every time a different one - can't help but wonder, where do they all go???). He showed me my new xrays and compared them with the one shown below - the only difference being that the thin gap that can be seen between the edge of the cup and the bone has now closed up. This means that the bone has bonded with the implant, which is what's supposed to happen, & means that the implant isn't going anywhere. Basically it's all good.
For the first anniversary, next week, I'm planning a small dinner with friends and to begin the cleaning process with my femoral head (along the lines of the Bone Room instructions below). I think one year out of the body is long enough; now it needs to be cleaned.
16 September 2006
It's almost a year since the operation & things are feeling really good. I have rediscovered the joy of walking - the freedom of moving under my own power, not having to wait for a bus or negotiate traffic, getting around town without burning fossil fuel and contributing to global warming, exercising my muscles, walking without a limp! It takes me half an hour to walk into town and it's a pleasure (except when it's windy). Two weeks ago I danced all night to The Bats with Michael who was home on holiday from York. Bionic hip indeed!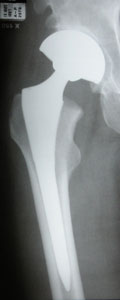 16 August
Finally I've got round to providing you with the long-awaited x-ray of my implant, and more pictures of the progression of my femoral head: the view from the top, and the underside. As you can see, it hasn't changed much from the last pictures, despite a few months of sitting on the kitchen window sill. I am wondering whether i should attempt to clean it, and if so - how? A good scrub with an old toothbrush? Should I use water? If so, should it be hot or cold? Soapy or not? I found the following advice at The Bone Room:
Remove any remaining tissue or hide from the bone
Immerse the bone in a container of water.
Leave the container in a warm location where you won't mind the smell.
Periodically pour the greasy, smelly water out (gardens love it!) and replace with fresh water.
When the water runs clear, the bacteria have run their course.
Soak the bone in regular drugstore strength hydrogen peroxide until it reaches the whiteness you prefer. This also sterilizes the bone.
You're done!
Hmm; I wonder, where is a warm location I can leave it where I won't mind the smell? Or perhaps it won't smell, since it's been buried? And I wonder how long it takes ...
Meanwhile half a world away in Brazil, Regina Célia Pinto's work on reconstructing the Great Earthmother Cyborg continues; I watch its progress with bated breath ...
And one last treat for today: the invitation from the Hippening, held at the end of July to mark all things hip - see how the implants come out in style for a special occasion!
6 August
Hiroshima Day (and the 40th birthday of my friend Monica); last Friday I marched against the war crimes being committed in Lebanon - it is incredible that world leaders are standing by and doing nothing to stop the killing. As always, there are more reasons for this bloodshed than the simple over-reaction of Israel to the capture of two men. It makes me feel sick.
The last month has passed in a blur. After Rosa's visit, I went straight to SCANZ and I'd just returned from that when Jadranka and Antonella arrived. And in the middle of all that, I had my own 40th birthday, the Hippening.
9 July
The Great Earth Mother Cyborg project, which began here, is now being documented online as it evolves. Renowned anthropologist Sir R.B. is working with a team of specialists dedicating to decoding the mysterious symbols discovered on my femoral head. There was a disappointing setback this morning when the first cyborg prototype disintegrated, however new prototypes are already being tested.
Meanwhile back in the islands of Aotearoa, the SCANZ residency continues; at last Leena and Karla have joined us and we are planning to work intensively together for the rest of the week.
1 July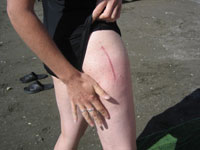 My friend Diane sent this photo of my scar which she took back in january - not much has changed since then. It's really such a tiny scar i find it hard to believe they got the impant in there! Actually these days i'm finding it hard to believe the implant is really in there at all, it doesn't feel like there is anything different. i have to keep checking my x-ray and looking at my femoral head on the kitchen window sill. i know, i know, i promised you the x-ray on this page and another image of the femoral head but you have no idea how insanely busy i've been, my house is a tip and there are piles of urgent things all around me ... and now we are in the middle of our fantastic trip ...
16 June
I don't seem to have much time for anything these days, but I do have my e-femoral head on the window sill and i look at it and marvel that it used to be inside me. the strength is building in my right leg, i'm working up to Half Moon pose in yoga - easy to do on the left leg but has been quite impossible on the right. But i'm getting there ...
Thunder & lightning today, rain & wild wind ... I must go out to collect coffee from the fabulous People's Coffee who are sponsoring Magdalena Aotearoa and our endeavours - this weekend is our AGM & the last Training workshop, and next week Rosa Casado arrives ... I'm getting the gear box replaced in the Valiant and the following week it's off to New Plymouth for SCANZ; which has indeed turned into the Collider's First Near Miss ... neither Karla nor Leena were able to get funds to come here so it will be me, Vicki & a couple of cardboard cut-outs ...
2 June
I'm a naturally busy person, but lately I seem to have been more busy than ever. Hang on, I've said that before. I'm speeding up. I must be completely better. I must slow down. Is the earth turning faster than it used to? It must be part of global warming. I should drive less often - actually I hardly drive at all these days, I love the bus.
What am I busy with? Organising visits to New Zealand of Rosa Casado, and Jadranka Andjelic & Antonella Diana; organising the UpStage walk-through and ADA Swaray; preparing an e-marketing workshop for an artists' retreat; doing some corporate copywriting; the never-ending funding proposals; and preparing for what's shaping up to be the Collider's First Near Miss at SCANZ.
Our residency at SCANZ is supposed to be the first time that the four members of this globally dispersed cyberformance troupe ever meet in real life. It's very exciting, and a landmark moment in the world of cyberformance, however funding for Karla and Leena's airfares to New Zealand is proving hard to find.
If you're a closet fan of the Colliders and would like to become a much appreciated patron by making a generous donation towards our first ever real life meeting, just email me now. Help the Colliders Avert a Near Miss!!!!
ps - for those who are tracking progress, my e-femoral head is drying out nicely on the kitchen window-sill, i will post a photo soon; and I'm building up strength in my right leg, feeling pretty good at the moment, almost able to run.
22 April
Launch of the biography of my grandmother: "Margaret Holmes - the life and times of an Australian peace campaigner." Granny is 97 now and when I visited her at the time of the launch she asked me, "Are you still doing this cyberformance work?" - she understands it better than my mother does.
17 April
Yesterday, Easter Sunday, I had a little ressurection of my own in the back garden. It seemed an appropriate day for the femoral head to rise again. It is very light now, still with a bit of cartilage on it but quite dry and looking a lot like a freshly dug potato. I've left it on the kitchen window sill to bleach so I hope that my flatmate doesn't accidentally try to eat it.
Here you can see the progression of change and here are previously unpublished photos of the underside. Still to come: the x-rays!
15 March
Another story! this one from Marc Garrett.
13 March
Regina Célia Pinto has made the first contribution to "e-Femoral: the severed head and other stories." Her story is an extract from her current work in progress, an electronic artist's book entitled "Proposal for a Great Earth Mother: Bio Art and Digital Literature" (translated from Portuguese by Sabrina Gledhill). Read it here.
10 March
You may recall that I buried my femoral head on new year's day. I'd been told that it should take about 8 weeks for it to be cleaned underground, so yesterday, in the presence of two friends, one of whom has just had a double hip replacement, I dug it up. You can see the progress here - unfortunately the colours don't show well in the photo, there is a lovely bluish, marbly tone to the area where the cartilege was already worn away. You may wish to compare photos of it after 10 weeks in the ground and fresh from the freezer. I have buried it again to allow the process to continue.
9 March 2006
There's a chill in the air, thunderstorms in the morning & sunshine in the afternoon, the ferries cancelled last weekend due to 12 metre swells; i get out my winter pyjamas and the heater. can summer really be over already? the shock has been heightened by a road trip in february to the tropics of auckland & the east cape, swimming in the ocean & picking ripe avocadoes off the ground only 2 weeks ago ... meanwhile back to reality, drowning in email and never-ending funding proposals, not enough time or money to properly enjoy the fringe & arts festival. this sunday another hip friend and i will do a sponsored "joint effort walk" to raise funds for joint research (and i'm not talking about marijuana). next week i'm down south giving a presentation at the "connecting coasters" conference and next month off to sydney for the launch of my grandmother's biography. no time for plogging!
oh yeah my hip - it's pretty good. i still can't seem to shake the last of the limp though. i'm swimming, doing yoga and have recently started tai chi which i love & which i think is really helping with balance and strength.
7 February
I can't blame my lack of regular writing here on being inundated with severed head stories; but i can say i've been busy - in fact, i painted the roof over the weekend, and went dancing on Friday night. That was pretty exciting. And this week i'm driving up to Hamilton - 8 hours if i did it in one go, but i'll take a few breaks and do it over two days. I've been swimming regularly and doing yoga - we are working on the pigeon pose this term (and no, tha'ts not me in the photo - i'm not quite there yet ...).
26 January
Hmm; I haven't written much here for a while - have been busy with paid & unpaid work. But good news - my x-rays finally arrived, so i will soon have an image here of my implant. The swimming pool has reopened so i'm getting back into that, my yoga teacher is back, and last week i walked over the Kilbirnie and back, that was about an hour.
I also went to the dentist - nervously, because my teeth have been feeling sore, and also because my little joint replacement card says i have to show it to dentists. My dentist said cheerfully that my teeth are all solid, but he recommended that i spend lots of money to have a one-hour deep cleansing session with a dental hygenist, and prescribed antibiotics to ensure against any infection in my hip. It's hard to imagine how cleaning ones teeth could lead to infection in the hip, and the dentist said it is extremely unlikely, but better safe than sorry. So that's something to look forward to next week!
1 January 2006
Today I buried my femoral head; it's not very deep, and within a pot-plant pot, with a stake marking the spot. I'll dig it up in 8 weeks and see how clean the earth has made it. Hippy new year.
28 December
The fertile imagination of my neighbour Violet (who is quite possibly the only person who reads this plog) has been inspired by my severed femeral head, fabricating lurid stories of murder and intrigue. To give her somewhere to vent her creative urges, and also because she complained that there was no way to post a comment to my plog (that's one difference between a blog and a plog) - I now invite you, dear reader, to contribute to an anthology entitled "e-Femoral: the severed head and other stories."
23 December
Yesterday was my 12 week check-up; the doctors are happy with my progress, but I'm still limping and using the walking stick when I go out. I tried walking the 2 blocks to the hospital without the stick & it was pretty hard work. I still haven't got the copies of my x-rays yet, but I did manage to get a copy of the operation notes yesterday. Interesting reading - my acetabulum was sequentially reamed to a size 52 and my femur broached for a size 5. Oddly, the notes finish by saying the skin was closed with staples, which isn't true. I had no staples, just one stitch & a big piece of gladwrap over the top. Makes me wonder what else might not be completely accurate ... !
As I still can't show you my x-rays, I've got a special image for the less squeamish amongst you (don't say you haven't been warned!). This photo of my femoral head shows you the area, about the size of a 50-cent piece (NZ coins - the 50 cent is quite large) where the cartilage is completely worn away. That's what was causing most of the problem. The ice crystals are because, yes, it's still in the freezer. My gardening is going very slowly and I have yet to prepare the place where it will be (temporarily) buried (for cleaning). Too much information? Don't keep reading! ; )
Now that I've updated my site, I was about to set off to the gym and to buy my last, most difficult xmas pressie (for my elderly uncle) - but the sky has gone black and is about to empty itself so I think instead I'll go and close the french doors and do something inside for a while.
16 December
Now I'm really starting to feel better-than-before. Still using the stick when I go out, but the other day I walked a block and a half to the dairy and back without it. Yesterday I started a one-month free membership at the gym - a bit of a shock for the system! But once I got over feeling like I'd been dropped into another planet, I quite enjoyed it. Tomorrow I'll try the "body balance" class - a mixture of yoga, pilates and tai chi.
Tis the silly season and there are parties almost every day, so I've made the most of the opportunity to give some of my frocks an airing. I've also been able to get a bit of gardening done - it's in a pretty badly overgrown state, so I'm slowly pulling out the weeds and rediscovering some plants in amongst it all.
2 December
First flights with the bionic hip installed: disappointingly, I didn't set off the metal detectors in Wellington, but on the return flight from Dunedin I did, and there was excited beeping as the security guard ran her metal detector device over my right hip. So there must be metal in there! I was down in Dunedin at the ADA _emerge_ symposium, which was great. My x-rays have STILL not arrived from the hospital ... I am still using the walking stick when I go out, & trying to be disciplined about doing my exercises ...
12 November
I had my six-week check-up the other day, and was given the all-clear by my surgeon; he told me to throw away the crutches, forget the hip precautions and lose the high seats - AND start driving again! : ) so I did, and I have, & all is good. Driving feels pretty easy - the hardest thing is getting into the driver's seat. He did say not to go putting my foot behind my head ... I'll go to yoga on Wednesday and see how I go. I still have a major limp and can't lift my right leg when lying on my left side ...
My x-rays still haven't arrived from the hospital which is a bit disappointing. But I did remember to ask the surgeon what kind of metal is inside me: it's tantalum, a trabecular metal.
I've got round to compressing another couple of photos but they're from hospital so i put them in lower down, you'll have to scroll ... (see, it's not really a blog, i've moved all the photos around ...). Oh and I forgot to say that in amongst everything else last week, I finally got my hair cut. Not dramatically, but it feels so much lighter and less troublesome in Wellington's spring winds.
8 November
It's 6 weeks today, and I'm almost crutchless ... I can get around the house without too much of a limp but still taking a crutch or walking stick when I go out. I'm seeing the specialist again tomorrow & hoping that I'll have permission to bend the joint more fully. My x-rays still haven't appeared, dammit, but I'll soon photograph my femoral head for those of you who wish to see a piece of my skeleton ...
I've been following the progress of my friend John's recovery, while another friend, Meliors, has been blogging about "Demeter's Dark Ride- An Attraction."
29 October
The 4-week mark has gone flying by in a haze of activity; I've been bussing into town every night to appear as The Duchess for "Demeter's Dark Ride - An Attraction" (at BATS until 5 November) - it's exhausting but irresistable fun. Also a good opportunity to see lots of friends. Right now I'm trying to tune into the launch of Specflic, but getting "host unreachable" messages, & in a few hours I'll be in UpStage, watching the first performance by an outside group (Family JeanRichard). Yes, I hear you say, Helen is clearly much recovered!
I'm trying hard not to overdo it, but there's so much to do!!! All the lying around taking it easy part is over, and I only managed to read 2 books, didn't even get my knitting out ... now there's proposals to write, presentations to prepare, submissions to assess, etc. etc. etc. But don't worry: I am eating properly, I am doing my physio exercises (honest!), I am swimming. I can now shower myself, vacuum, and hobble round the house crutchless. Waiting anxiously for the day I can do yoga and drive again ...
19 October
I t's now 3 weeks since the surgery and I'm over the miserable post-operative part & making good progress in my recovery: on Sunday night i went to the theatre & yesterday I walked all the way to the Newtown shops & back!! I still need a bit of assistance with showering but otherwise I'm reasonably independent, walking with one crutch so I have one hand to carry things. My brain is coming back to life, but I'm still not able to be comfortable at the computer for long - it's impossible to be ergonomic, so i have short bursts & change positions a lot.
I've finally got round to resizing some photos from my hospital stay - scroll down to see.
14 October
Yesterday I went to the hospital for my first post-op check-up; x-rays were taken, my leg was manipulated, i walked on one crutch for the doctor to observe, and all was deemed to be most satisfactory. The dressing has been taken off and the wound is looking very very good - disappointingly small! How the surgeon got the implant in through such a small opening is a mystery to me. I've ordered copies of my x-rays so you can expect to see visual evidence of the surgery here soon.
Then today, I went swimming for the first time. Wow! it was amazing to be immersed in water! Weightless and moving freely - albeit gently and a little cautiously. I aquajogged weakly up and down the pool a couple of times, chatting to my friend, then we tried the spa pool. I wasn't sure if I'd be able to get in as it's low down, but where there's a will, there's a way - I sat on the edge and gently lifted my leg in. Bliss again, to be in those hot bubbles!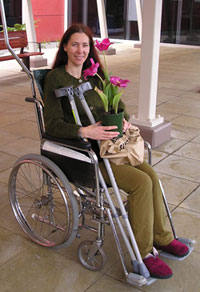 And on a completely different matter: the owner of the house next to mine has got his knickers in a knot over me (well, my flatmate actually) trimming the trees on our boundary. He's served me with a trespass notice and says that he plans to take me to court for $20,000 damages. The trees are taupata, a common and fast-growing coastal native, which shade my garden almost completely in winter. The owner of the house doesn't live there and his tenants have no problem with the trees being cut ... oh well, something to distract me from the healing process ...
3 October
On Monday 3 October - day 5 after the operation - I convinced the physio that I could handle steps and told the doctor and nurses that I was going home. I was still feeling like crap, but I'd had enough of the hospital food and just wanted to be in my own bed.
Cathy came to pick me up and I got dressed in my own clothes. Note the swollen right leg in the photo. We came home via the chemist (for painkillers) and as we arrived the euqipment also arrived - high chairs, high toilet seat, bench for the shower, grabbing stick, sock aid, etc. Boomer freaked out at first with all the strange smells, but then he came in and slept the whole night right beside my wound, purring.
Even though I still felt like crap, it was really great to be home.
1-2 October
I managed to summon up a smile and force myself onto my feet by day 2, and by day 4 I changed out of the hospital nightie into my own sexy pajamas and got going on the crutches. The main criteria for leaving hospital was being able to manage steps on crutches, and I was determined to do that as soon as possible.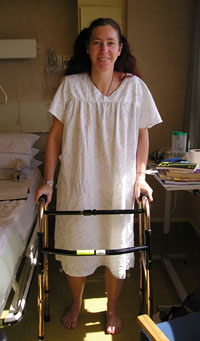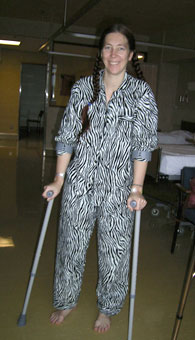 30 September
Here I am doing my Frida Kahlo impersonation - yes, I was feeling like crap.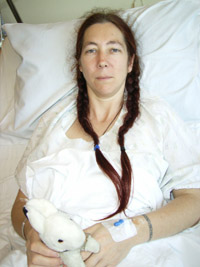 I came out of the operation joking withe the surgeon and felt great in the recovery room; then they stuck a morphine drip into me and i went into a morphine haze for 24 hours. But a few hours after they took the morphine away, I started throwing up and feeling dizzy and miserable. This was really intense for about 24 hours, and continued for the rest of the time I was in hospital. The nurses and doctors said it was a reaction either to the morphine or the anaesthetic - i think the first, because I've never had it so bad after an anaesthetic before, and for this operation I had a spinal block (like an epidural) and a very light general anaesthetic.
27 September
I'm first on the list tomorrow morning, which means arriving at the hospital at 7.45am. I'm not much of a morning person, but perhaps I won't be able to sleep tonight anyway, and it will be over and done with before I realise it's Wednesday. Still no henna, but otherwise I've done almost everything I wanted to get done. I feel like I'm preparing for a long journey but without leaving town. Submitting my self to the skill of the surgeon instead of putting my life in the pilot's hands. There will be no turbulence (I hope) but the food might be worse. It will be longer than a long-haul flight and probably even less comfortable but at least I can have visitors.
26 September
Forget the oil crisis - there's a world-wide shortage of henna, and red henna cannot be found in the city of Wellington! I'm going to go under the knife with my roots showing!!!
24 Setpember 05
I've been closely observing my friend Carolyn, who got her new hip on the 15th; a week later she's back at home and recuperating remarkably well - climbing 2 flights of steps and getting round the house on one crutch. Amazing! Almost too good - I was planning on at least a couple of weeks of pampering from my friends ...
22 September 2005
6 sleeps to go & i'm feeling pretty relaxed. Typically, my hip is being extremely well-behaved, hardly hurting at all (comparatively); i can almost feel it saying "please don't get rid of me, i promise to be good from now on!"
Jess is also experiencing being disconnected & im_mobile.
4 December 1976
Right Salter Pelvic Osteotomy
Surgeon: Mr Mirkin & Mr McMillan, Assistant: Dr King
GA: Dr Turner
16 January 1970
Supine with a sandbag
and oblique in indecision,
the Tendon of Psoas scratched
his greater sciatic notch
casually, and watched the
Distal Half levered downwards
into the interrupted chromic catgut

iliac iliac ilial ilium iliac iliacus ilium iliac ilium iliac
The patient lay supine with a sandbag under left buttock.
An oblique incision was made running downwards and forwards from just above the greater trochanter to in between the superior and inferior iliac spines.
The iliac crest was exposed and the ilial apophysis was split longitudinally and the abductor muscles split subperiostealy from the outer surface of the ilium right down to the capsule of the joint, the inferior/anterior iliac spine in front and the sciatic notch behind.
Prior to this, the rectus femoris with its reflected head had been exposed by dissecting in the plane between tensor fascia femoris laterally and sartorius medially.
After excising the reflected head of rectus femoris, the antero-inferior part of the capsule was incised and the joint opened into.
Under direct vision, the hip could be easily relocated by flexion, abduction and internal rotation.
The iliacus muscle was then stripped also subperiostealy from the inner aspect of the ilium right down to the sciatic notch posteriorly and the anterior-inferior iliac spine anteriorly.
The tendon of psoas was isolated where it leaves the pelvis and divided.
(An adductor tenotomy had been done at the beginning of the operation).
The Gigli was then passed through the greater sciatic notch behind to the anterior-inferior iliac spine in front.
The distal half was levered downwards, forward and laterally and held in position by the triangular shaped anterior one fifth of the ilium, the apex being posterior and the base anterior.
This was held in position by two Kirschner wires passing downwards and backwards.
The hip was then relocated and held in position of flexed abduction and internal rotation while the iliac apophysis was sutured with interrupted chromic catgut.
A subcuticular skin stich was then insterted and after dressings had been applied, a hip spica was applied
P.T.O.