where have i been?
december 06 - january 07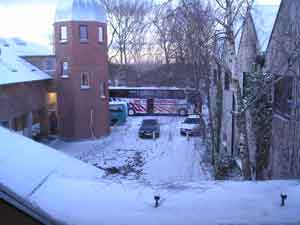 After a two-year hiatus in my global wanderings (during which time I had my bionic hip installed and reconnected with my local community), it was fantastic to be out and about in the world once again.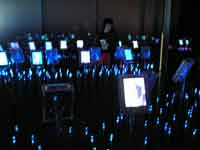 I began my journey with a well-deserved rest with my 98-year-old granny in Sydney, and arrived in Sweden in time for new year's eve. Thanks to an elegant black velvet evening gown given to me the day before I left Wellington, I was able to impress the Swedes with my glamorous get-up and sophisticated tequila-swigging.
The holiday continued with a trip to Norway - a ferry across the fjord, Sandefjord by night and the Penguin movie dubbed into Norwegian (for six-year-old Axel). In Oslo we hung out with Miff and went to the Nobel Peace Centre (right).
By the time I got to London, I was ready to start some serious networking. Meetings with Furtherfield and other new media artists, friends and colleagues made for a full week, with a bit of socialising and ice-skating thrown in to keep the holiday spirit alive.
Then I was off to Denmark, headed for Holstebro and the Odin Teatret, where the Transit festival would take place. But first, I'd promised myself that I wouldn't go through Copenhagen for about the fifth time without stopping and having at least a quick look at the city. Unfortunately it was not only winter but raining as well ... I managed to check out some interesting shops and the National Museum which is free and has a great children's museum - full of things you can do such as dress up in costume, play school and shops and castles (naturally it wasn't so much fun to do these things by myself, but I used my imagination).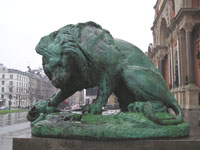 I also found one of the best lion statues I've come across, outside the Glyptotek. Most European lion statues have such a nervous and worried expression, but this one was unusually ferocious.
Continuing as a tourist for another day, I visited Odense, the home town of Hans Christian Anderson. It was also raining here, so Mila wisely purchased two Emergency Ponchos and we touristed around quite dry under our plastic shelters. Odense is a quaint little town, with lots of old cottages squeezed together in the centre. We didn't visit HCA's birthplace, instead stumbling across his childhood home - a single room that also served as his father's cobblers shop. The woman working there was so excited to have customers that she gave us a very detailed guided tour - who would have thought there would be so much to say about a single, humble room!
On the train to Holstebro, I joined Cristina and Bruna from Teatro delle Radici, and we were met at the station by Emanuela and Hans. At the theatre I settled into the Suite Royale (where I'd stayed three years before at the previous Transit) and began to get my head into gear for the coming ten days. I was to be part of the "Women With Big Eyes" collaboration - an experiment in putting together pairs of "young" and "old" Magdalenas to devise a performance, with the starting point being the short story by Angeles Mastretta. I also found I'd been rostered onto the bar - everyone attending Transit is given a task such as vacuuming or cleaning a toilet; obviously they'd remembered that I was usually in the bar anyway, so might as well be in charge of it!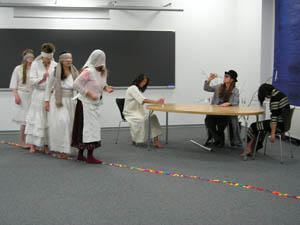 As the participants began to arrive there were many happy reunions with Magdalenas from around the world, most of whom I hadn't seen for two or three years. And then the work began ... the "Women With Big Eyes" collaboration was very good for me, I enjoyed working with the others and was able to experiment quite a bit with using different applications to project text and images as a backdrop, completement and response to the actors. We were to show the results of our four days of collaboration at the end of the festival, and that was a satisfying experience for me.
I also gave a presentation about the Magdalena Project web site, online forums and email list, and recruited some more translators for the site. The programme of performances and presentations was inspiring and intense, as I've come to expect from Transit festivals. Along with the networking, late nights at the bar and early mornings to have time for a shower, it was a full-on ten days.
The highlights for me included meeting Annet Henneman and learning about her work with refugees and European Union parliamentarians; Cristina Castrillo's presentation; the Wayang Kulit Balinese puppet show; Dawn's simultaneously hilarious and painful show "Heroin(e)"; and the many conversations and dreams and possibilities discussed in the spaces between everything else.
On the penultimate day, we held a ceremony in memory of Sally Rodwell, showing photos and playing music from Crow Station. Dawn Albinger sang a beautiful song she'd written for Sally, then we went out to unveil a memorial stone in the grounds of Odin Teatret. Below, Deborah Hunt and I with Sally's stone.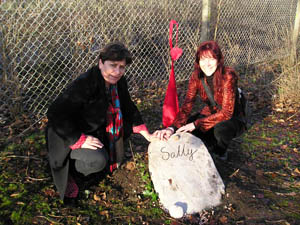 The festival came to a close with a fabulous party laid on by the Odin techs (thanks!) and a feast prepared by Brigitte Cirla and helpers (merci!). The theatre was cleaned, I met with Rina about the Open Page web site, and then I was in a car with Deb and Antonella, driving to Ringkobing, the home of Teatret Om. They were away on tour, but Deb and Anto were starting work on masks for a new show with Om. Anto and I talked about our own collaboration, I repacked my suitcase and managed to fit everything in, and then it was time to begin the Great Journey back to the other side of the world ...