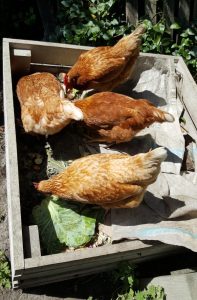 The chickens don't give a shit about the corona virus. They also don't seem to mind the wild and wintry weather that closed in on Dunedin in response to Jacinda's lockdown announcement. The chickens are only interested in food, of which we have plenty, apart from layer mash – there's been none at Taste Nature for months. Never mind toilet paper and pasta – we want layer mash! Luckily chickens will eat just about anything, they especially love picking through the compost, so they won't starve. More of a worry is firewood – we hadn't yet ordered in winder supplies and have only enough for a few days; how long is this early winter going to continue, and is firewood delivery considered an essential service during the lockdown?
This freelancer's sabbatical is not turning out anything like I expected. Andy and I arrived in Aotearoa at the beginning of February for an extended family visit. I deliberately hadn't taken on any work for the first half of this year (beyond several ongoing projects that already constitute quite a lot of my normal work) and I had imagined that, as well as spending time with family and friends, I might be able to do things such as learn te reo Maori, edit some video documentation of my work, do filing and archiving stuff that there's never time for, and help Andy to imagine that we could live back here in these distant islands … but so far almost none of this has happened. We had barely arrived and got settled when Uncle Ian died, and my days were suddenly filled with organising the funeral and dealing with the many things that must be dealt with when someone dies.
As we made plans to spend the last weekend of March emptying and cleaning my uncle's house (not easy to organise, as none of us live in his town), the whispers of a dangerous new virus that we had heard as we journeyed across the world at the end of January began to grow louder. Friends back in Europe sent reports that grew more and more concerning, and the attitude here began to change. We Kiwis can be a little bit smug at times, as living on distant islands give us a sense of both isolation and insulation from the dramas of the rest of the world. We have great border controls and biosecurity, we're not going to be bothered by a "little flu" … or are we? We're great travellers; and tourism is one of our biggest industries. There is a constant flow of people in and out of the country, around the world and back again. We can stop food and plants and animals – even small bugs – from getting in, but we can't stop a virus. It was inevitable that people would arrive here with it, returning travellers or tourists from anywhere, and only a matter of time before community transmission would begin. And now we find ourselves in lockdown, all our carefully laid plans for clearing our uncle's house put on hold. Perhaps I will get to do some of those things that I imagined for my "sabbatical" after all.
How curious, to suddenly be in a pandemic! It is of course stressful and scary, especially for those facing job losses and other uncertainties; but it's also a great exercise in finding out how much and how quickly we can change our habits, globally, when we are forced to. Air pollution levels in China and Italy have plummeted due to the reduction in air travel and factories, and this has got to be a good thing for the environment. Cities such as Venice, Amsterdam and Barcelona that have been at breaking point from tourist overload are enjoying a respite and starting to imagine a better future. The pandemic offers a rare opportunity to reflect on what is most important to us – indvidually and as a society; to make significant changes in a short time-frame; and to ensure that once things are back to "normal", it's a better "normal" than it was before.
And suddenly everyone needs to know how to work online. I've been doing this for the last 25 years, and for more than 20 years my artistic practice has focused on cyberformance – live online performance that combines various digital media and online conferencing concepts into artistic performances. Right now we are waiting to hear the outcome of funding applications that we hope will enable the complete rebuild of our cyberformance platform, UpStage – which since 2004 has provided an online platform for exploring cyberformance. We've already had one Pandemic Party in UpStage and there will be more. Now is the time for cyberformance to shine!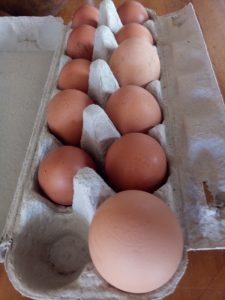 But back to the chickens: one of them is laying such enormous eggs we suspect a kiwi might be hanging out with them. Andy feeds them porridge every day (in lieu of the sold-out layer mash) and she's training them in a complex choreography to the tune of "In München steht ein Hofbräuhaus" (I don't know yet which of the four chickens is doing the yodelling part). Once they have it down pat, we'll make a video to post to the world (adding another bit of unnecessary data to the overstretched networks – can the internet cope with the pandemic?).
Stay home – bleib zu Hause – kia noho ki te kainga!
Stay calm – ruhig bleiben – e noho pai!
Stay well – bleib G'sund – e noho ora!