Furtherfield, my favourite online community, has started a new podcast, "News from where we are". Inspired by reports from members of the Netbehaviour email list located around the world, the podcast is "a conversation with many voices from the ground to explore how the collaborative-imaginative fieldwork of artists, techies and activists is informing how we organise, imagine and build solidarity, good health and post-capitalist realities. Working together and supporting others to do the same."
I'm delighted to be included in the first episode, which was published on Friday 10 April. The episode also includes reports from Rob Myers, Isabelle Arvers, Tacira and Edward Picot; conversations between Marc Garret and Cassie Thornton, and Ruth Catlow and Cade Diehm; an audio essay by Jaya Klara Brekke; a review by Regine Debatty; and a poem by Jeremy Hight. Sounds from Ethernet Orchestra, Ouch Those Monkeys, Alan Sondheim, Azure Carter, Luke Damrosch, Stewart Home.
The podcast will continue fortnightly. Here's my contribution:
Kia Ora, I'm Helen Varley Jamieson and I'm in lockdown in Dunedin, Aotearoa New Zealand. We've been at "level 4" lockdown for two weeks, staying at home, only essential services operating. We currently have 1160 confirmed cases of Covid19, with 12 in hospital, 241 recovered, and one death. The number of new cases decreased today for the first time since we began the lockdown.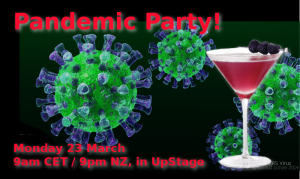 Lockdown is not difficult for me. I'm in an ideal place, with everything I need, and I was already having a kind of sabbatical so I haven't lost any work – yet. For more than 20 years, I've been developing cyberformance – live online performance – and it's been a pretty quiet niche, populated by experimental artists, researchers, and a few curious public. Now, it's as if a rampaging group of noisy and enthusiastic tourists has suddenly burst in and taken over. Wonderful things are happening all over the internet. We've had a Pandemic Party in UpStage, and new performances are in development. It's exciting, but also overwhelming. I have to practice some "virtual distancing" to stay sane.
There is suffering and hardship, stress and uncertainty; but I'm optimistic about the post-pandemic future. Massive changes can be made very quickly – when there is the political will. Cleaner air, cleaner water, the increase of bird-song thanks to the quietening of our cities – all this demonstrates that we can easily make improvements – IF we want to. The pandemic is opening our eyes to what we really need and value, and what is superfluous and superficial. My hope is that we can use this time to reprioritise what is important in our lives, and begin to make the necessary changes towards holistic co-existence as part of a healthy ecosystem.