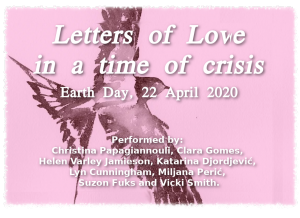 Last year, UpStage participated in "Letters to the Earth" – organised by theatre people in the UK, in response to the climate emergency. The public were invited to write letters to the Earth, which were read on Earth Day, 22nd April, at theatres and venues around the UK and the world, and online in UpStage. This year, the invitation was the same as the title – to write letters of love in a time of crisis; and the letters have been published as video recordings on the project website.
On Earth Day this year, we performed live in UpStage – we being myself and seven others from the UpStage artists community: Christina Papagiannouli, Clara Gomes, Katarina Djordjević, Lyn Cunningham, Miljana Perić, Suzon Fuks and Vicki Smith. A recording of the performance will be available soon. And, as several people said they were sorry to miss it, we're giving another performance – "back by popular demand!" – on 26-27 April (Sunday evening in Europe, Monday morning in the Antipodes).
The letters are an opportunity for people to reflect on what is happening in the world – those who write them, those who read, and those who listen. They address environmental, political and personal themes. In our performance, we augmented the words of the letters with images, sounds, music and "letter jams" – free associating with words beginning with each of the letters of love – L, O, V and E.