Recently I attended the Libre Graphics Meeting in Saarbrücken, and I have blogged about it here. So much else has happened in the last month that it feels like a long time ago, but we still have things to follow up from it such as organising an online meeting with our new interface design volunteer Elisa Godoy de Castro Guerra from France, and preparing for the next AUT student team to come on board.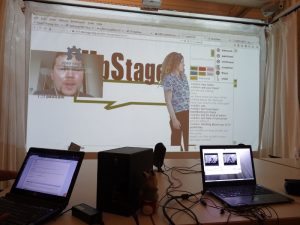 My topic at the LGM was life cycles and sustainability of FLOSS arts software: how do we maintain projects such as UpStage over the years, without funding or steady income? UpStage is now 15 years old and we are attempting to begin a complete rebuild of the platform in order to make it compatible with current technologies, but we are totally dependent on voluntary work. That it still exists at all is testimony to the dedication and commitment of those involved – many similar projects have come and gone. But I don't know of any other platform that is doing what UpStage does and available for artists to use, so the need is still there, still driving me and others to keep going with the project.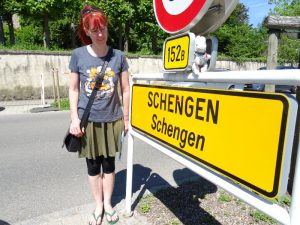 Events such as the LGM are great for support, for connecting with others in similar positions (it's surprising to learn how many other, bigger, graphics software projects are also maintained by volunteers) and sometimes finding new contributors such as Elisa. This year I also had the chance to see Douglas Bagnall, the original developer of UpStage, who was there presenting a different project. And Saarbrücken is a nice town to visit. We sneaked off one day for a side trip to Luxembourg, which is a really interesting city (and country) and passed through Schengen, the town where Europe's border-free travel agreement was forged.
I came back from Saarbrücken feeling inspired and supported to continue (voluntarily!) with UpStage, and went almost immediately off to my next adventure (that will be the subject of another blog post). Now it's time to do the follow up from LGM!