Recently I travelled from one side of the world to the other. This is something I, and many other people, have grown accustomed to be able to do more or less when we want to. This particular journey, I booked almost a year ago – the return leg of a six-month sojourn in Aotearoa New Zealand spending time with family and friends, for my partner to experience normal daily life in NZ. In mid-2019, we had little idea what would transpire in 2020!
Indeed, not much turned out the way that we expected for the visit (you can read some of my earlier posts about what happened) – however it was still a very good visit. And like all adventures it came to an end, so after some cancellations and rebookings, I found myself circumnavigating the globe in the middle of a pandemic (Andy had already made it back, with more complications than I encountered, but that's another story). The first leg of my journey, from Dunedin to Auckland, was more or less normal. Once in Auckland, the first change was the absence of the shuttle between the domestic and international terminals; clearly with so few international travellers, there's no justification for it. I was instructed to take the city bus, and it dropped me off at the international terminal. Here It was quite surreal to be in the almost deserted check-in area, and to pass through the shuttered duty-free shops all closed.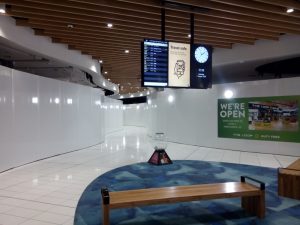 Really, it was nice not having to endure the long and winding path through the duty-free shops, and the advances of salespeople proffering perfume tests and other samples. Auckland's international terminal was blessedly quiet and peaceful. The number of departing flights didn't even reach the end of the TV screen and all the formalities of security and immigration were quick and easy.
On the plane, we were required to wear face-masks for the entire journey, apart from when we were eating or drinking, which felt a bit over the top on the first flight coming out of New Zealand, which at that time had been covid-free for a couple of months. It made chatting with the friendly young Dutch woman beside me quite weird – when she removed her mask to eat, I was surprised by her face, as my imagination of it was different.
In Singapore we were herded by an enthusiastic team of young, masked Singaporeans – hopefully the same people who would have lost their jobs working in duty free shops and other amenities at the airport. After a short while in a holding pen, we were lined up in spaced rows of 10, then marched single file to our gate at the other end of the terminal. We, the transit passengers, were then crammed to the back of the plane, filling the rear third of the cabin. The rest of the cabin was empty, and it was quite torturous being not allowed to spread out into all those lovely empty seats. In the cabin in front were passengers who had boarded in Singapore.
Then we arrived in Frankfurt. Us filthy transit passengers at the back of the plane were required to stay seated until the passengers from Singapore had disembarked, then we were allowed out – free to go wherever we liked. Immigration was quick and easy, as hardly any other flights were arriving. I collected my bag and headed for the train. There was no welcoming party, no information, no requirement to quarantine or test. I caught the next train to Munich, dutifully wearing my mask. It was busy but not too crowded, and everyone was dutifully covering their mouth and nose. I had yet to meet any "Masken-verweigerer" – but that would come soon enough.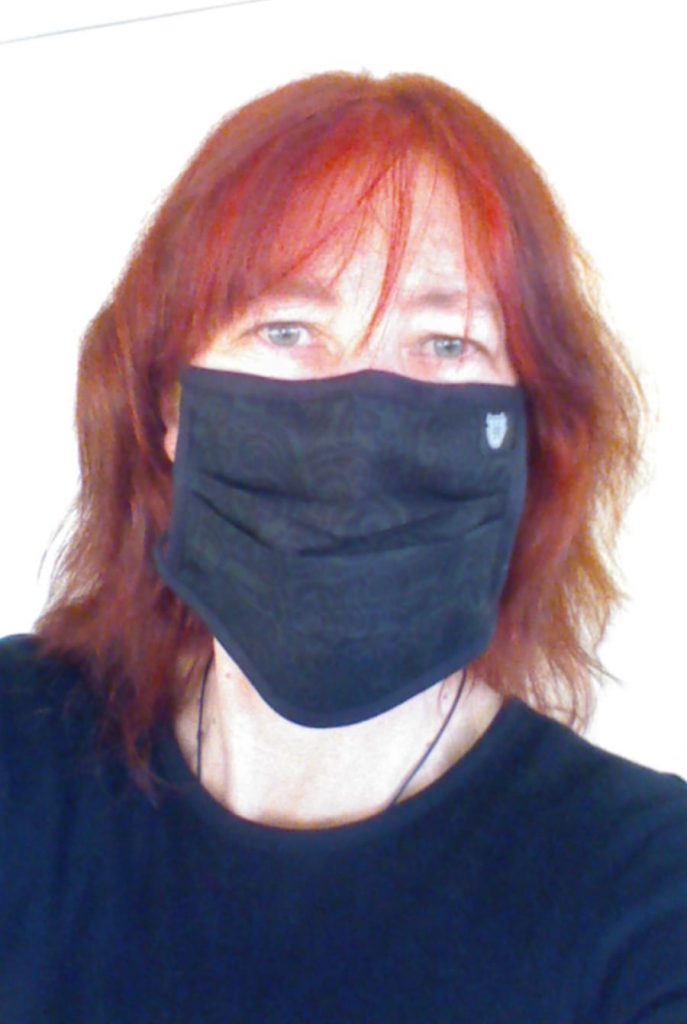 Transiting the globe in the time of pandemic was if anything less stressful than the usual journey. There were much less other travellers, shorter queues, less pressure to consume, and plenty of masks and hand sanitiser. All along the route, staff were helpful and friendly – especially in Singapore, where everyone was very warm and welcoming. I wonder how long it will last, and what sort of "new normal" air travel will come to "after" the pandemic; if nothing else, it's going to be more expensive. I was already conscious of the need to stop flying around the globe as much as I do, for environmental reasons; that's part of the plan to return to New Zealand. Will everyone fly less as the cost increases? That has to be good for the environment, and perhaps for us as well. Once we get over the outrage of not being able to jet off around the world whenever we feel like it, we might start appreciating the benefits of staying local again.