While the world is in a state of necessary upheaval, I find myself in an oddly still place. New Zealand's lockdown has ended, but I'm enjoying home-centred routines and quiet evenings reading by the fire. On the radio, the discussion ranges between "getting back to normal", and how we can rethink tourism, rethink the economy, and hang on to some of the positive changes that emerged during the lockdown. In the USA, centuries of rage is pouring out, and here in Aotearoa we are taking down statues and discussing whether or not towns should be renamed. The slow process of addressing the crimes of colonisation is taking some timid forward steps.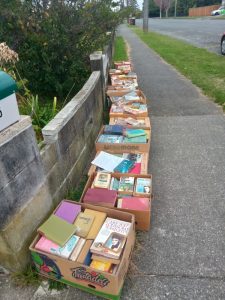 I haven't been completely cloistered at home. As soon as regional travel was allowed again, my siblings and I returned to the job of cleaning out our late uncle's house, which we'd had to postpone due to the lockdown. We met in Levin and spent a five days emptying and cleaning the property. It was a big job – our uncle was a serious hoarder. We found newspapers dating back to at least the 1970s stacked in the garage, boxes of books and more boxes of books (he'd previously had a second-hand book shop), and all kinds of other things kept in case they might be useful one day. We put hundreds of books out on the footpath and many local people came by to browse and take away some reading material. Family photos, letters and other interesting items also emerged from the cupboards, suitcases and drawers.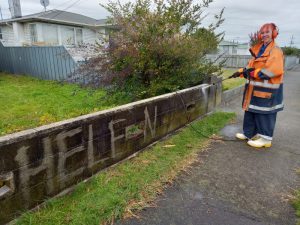 We were greatly assisted by Ivan Hodges from Total Estate Management – if you ever need to clear a deceased estate I can highly recommend him. Ivan planned and oversaw every step of the job – from removing rubbish to identifying important family items to cleaning up the garden. And I learned a valuable new skill – waterblasting! I discovered it to be both meditative and satisfying, since no thinking was required and it delivered immediate visible results. Some of the other work, such as sorting through boxes of random papers to ensure that nothing important was thrown out, was at times exhausting and at other times rewarding, such as finding childhood letters we'd sent decades ago. It was wonderful for us three siblings to spend time together, sharing the work and reminiscing about our many childhood holidays there with our uncle and grandmother; an important closure exercise.
Now, as the country moves towards some kind of "new normal", I've got a number of projects getting started and feel the pull of wanting to be involved in things again, visiting friends and getting active on mailing lists, at the same time as the desire to just stay sitting in front of the fire, reading. My sister has a great library (not surprisingly!). And I want to stay here, in New Zealand, where I'm truly at home, but I'm also feeling the pull of my life back in Munich. I know that I'll always be split. But this time has really made it clear to me, that my home is and always will be here.