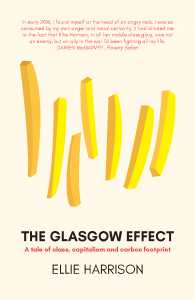 I've just finished reading Ellie Harrison's inspirational book, The Glasgow Effect, which has the byline "a tale of class, capitalism and carbon footprint". It tells the story of Ellie's one-year project to "not travel beyond Glasgow's city limits, or use any vehicles except my bike, for a whole calendar year." I read something about the project around the time it began (2016) and remember thinking that it sounded like an interesting proposition, but I didn't get a clear idea of what it was really all about. In fact, even Ellie herself could not have predicted what it came to encompass – from the initial outraged backlash over supposed squandering of public money on what was perceived as a pointless project, to the multitude of positive outcomes – numerous local campaigns that Ellie initiated during 2016, events to explain the project, the personal challenges she had to confront and finally this book, documenting and articulating the "results". If Creative Scotland judges success on engagement numbers alone, then this must have been one of their most successful projects, especially as it was created and executed by a single artist.
Ellie's announcement of the project on 1 January 2016 was greeted by thousands of howls of outrage on facebook, developing into a full-blown media controversy. After giving the background to how she came up with such a project, the book follows Ellie as she decides how to respond, her analysis of what she has triggered, and how this transforms her thinking over the year. She flings herself off the deep end and into the complex world of local community, culture and politics. Ultimately some of her most vociferous critics become allies, as they gained understanding of the integrity of her project and its potential to create the conditions for social change.
Transport – both local public transport and longer distance travel for work and holidays – is central to the project. Ellie first came up on my radar many years ago with her "Bring Back British Rail" campaign, and The Glasgow Effect was in part inspired by her getting a job in Dundee that required her to commute from Glasgow. Commuting has become increasingly normalised, whether it be low income people who can't afford to live close to their place of work, or those who routinely jet about to attend meetings or conferences. Ellie recognised that the globalisation of the art world was leading to this latter kind of commuting for many artists, as invitations to festivals, conferences, exhibitions, residencies and so on around the world are increasingly considered a measure of "success". And that includes me; in the last two decades my artistic work has taken me to dozens of international festivals and conferences in more than 20 different countries. The social and environmental consequences of all this commuting, and the neoliberal policies that have brought us to this situation, are thoroughly critiqued in The Glasgow Effect.
I think constantly about how I can minimise my personal environmental impact in all aspects of my life, and I'm aware that my travelling lifestyle is problematic. I take the train as much as possible (12-hour train journeys around Europe are a pleasure!) but I still often need to fly. And as a New Zealander, it's pretty difficult to avoid flying. Our closest neighbour (Australia) is more than three hours' flying distant, and while it is possible to travel overland to or from New Zealand, this requires significant time, money and logistics. Being based in Germany for the last decade has enabled a lot of grounded travel, but even still my personal carbon footprint must be pretty high. More and more often I ask myself – is this travel really necessary? Much of my work is online; I've presented at many festivals and conferences without physically being there and I've organised online performance festivals. Of course there is also an environmental cost to digital technologies, but it's less than air travel. And yet … there is much to be gained from physically attending festivals and conferences: I have had the opportunity to see so many inspirational performances, to meet and develop friendships and collaborations with people I love and admire, and to learn about other cultures, languages and places. All of this has undoubtedly enriched me and my work. But it's unsustainable. That's the hard truth that I confess I am still reluctant to accept.
The Glasgow Effect is reminder of the importance of local community, and how democracy ceases to function when things get too big and too far removed from the people it's supposed to be serving. Ellie advocates smaller local councils that can make the best decisions with regard to local public transport and other amenities, where communities can be empowered and engaged, and she connects all the dots from climate change to individual health and well-being. She draws these conclusions from her own experiences and a wide reading list – sociology, economics, politics and philosophy – and backs up her arguments with great quotes from her favourite writers and researchers. There's plenty of personal honesty in there as well; the entire project beautifully illustrates the feminist maxim, "the personal is political." Everyone should read this book!
Now I will go off to ponder my unsustainable life and how to mitigate it!