i've been meaning to blog about isea for the last month, but – well, things keep happening. shortly after isea i performed "the net and the butterfly" with vicki & francesco at PANik; then i went to berlin for a FLOSS Manuals meeting; i'd barely got back from that when i was off to novi sad to perform "make-shift" at the Umetnost Radi Akcije festival … & now we're into the build-up for the 11:11:11 UpStage Festival, happening this year on 11th november. it's been go-go-go since july, really.
isea is now a distant blur of metal detectors, windowless conference rooms, rows of bottled water, network frustrations, & a kaleidoscope of faces, familiar and strange. i'm also remembering the cheerful, colourful, noisy chaos of istanbul, cats everywhere, many great meals shared with good friends & colleagues, a tantalising glimpse of the black sea at the turning-point of our bosphorus boat trip, vintage clothes shops, more cats, & late-night chats with the friends i shared an apartment with.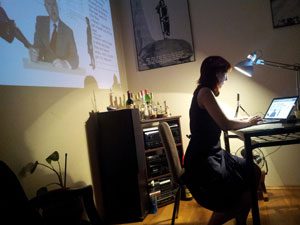 my involvement in isea was somewhat peripheral; i didn't submit a paper, but being invited to speak on two panels i thought i might as well go, and proposed make-shift to the performance programme. when it became apparent that we weren't selected, we decided to do it anyway, as an "off-isea" programme – one the advantage of a networked performance designed to be presented from living rooms is that it can be done from (almost) anywhere. my friend and theatre director jale karabekir provided the living room, and we gathered an audience of colleagues from the conference and jale's friends. my panel presentations turned out to be on the same day, so we made the performance two days later. monday was the only day we could rehearse, which meant that unfortunately i missed some presentations at isea that i wanted to see.
big conferences are like this: the things i want to see are inevitably programmed at the same time, or in different places so i can't manage to get to everything. isea was made more difficult by the detailed programme only being available online, and the internet being usually inaccessible at the venue, which meant that unless you'd read and memorised the paper titles for each session, or been really prepared and written down the ones you most wanted to see, you were a bit stuffed when it came to deciding at the last minute which dungeon-like room to enter. i did try running from room to room during the sessions, attempting to catch simultaneously-programmed papers, but felt like i was missing more than i was seeing. a surprising number of no-shows (in several sessions i attended, half the presenters were not there) meant that the order of presenters in the programme couldn't be relied on. so in the end i gave up trying to see specific things.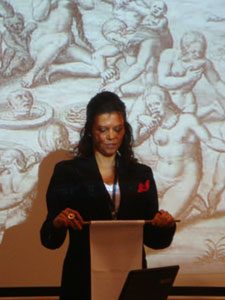 i did catch roger mills' presentation, which was part of an interesting panel entitled "visible and invisible actors of interactive audiovisual performance". i have collaborated in some of roger's ethernet orchestra performances (visual improv using Visitors Studio) but we'd never met, so there was a funny moment in his presentation when he quoted me, and panel chair paula roush said, "but she's here!". another similar meeting occurred when ruth and i were hastily checking the internet connection a couple of days before our panel, and another person also tech-checking in the room turned out to be andrew burrell, whose second life avatar gifted my second life avatar her gorgeous swishy tail some years ago. other notable presentations i managed to attend include the panel "voicing electronic arts" (chaired by norie neumark) and vanessa ramos-velazquez's performative presentation on digital anthropophogy, which concluded with us collectively eating her manifesto.
happily, ruth has blogged about the panel she chaired, re-rooting digital culture. for this panel, paula crutchlow (remotely) and i gave a presentation about our networked performance make-shift, which addresses themes of disposability, and "need" and "want", in contemporary society. despite our earlier tech check, the network let us down, failing to load our streams; we had to work out a quick plan B using Skype in combination with UpStage. this worked fine for the audience at isea (who did themselves proud, getting to the conference at 9am on a sunday morning – perhaps encouraged by the promise of pastries) but it meant that those who had joined us online could only see UpStage and not the stream. however, it went well and was followed by michel bouwens and a good discussion which could have continued much longer, but naturally … there's never enough time …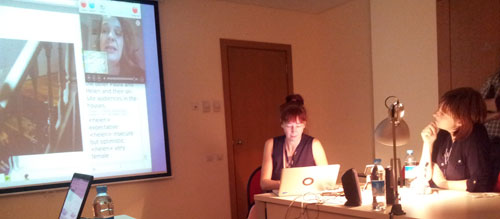 that afternoon i presented on the "intimate TV" panel, chaired by paula roush and maria lusitano. this panel brought together five women who are working and/or researching in the area of webcam performance: annie abrahams, cinzia cremona, margarida carvahlo, eunice , and myself. it was very interesting to see the variety of work and thinking, and to get to know the others not just through the panel but also over dinners and at the make-shift performance. this panel also had a good audience and discussion (again curtailed by the demands of the programme).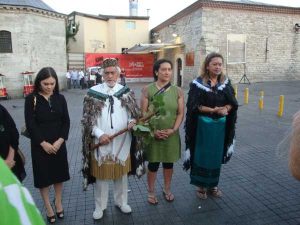 as well as the presentations, there was also the isea exhibition, most of which was taking place at Cumhuriyet Art Gallery, a building which was originally a water cistern (i think). there were a great many exhibits packed into its numerous interconnecting rooms, including the new zealand exhibition, unctontrollable: second nature, which was opened with a traditional maori dawn ceremony at 6.30am on the first day of isea. not being much of an early riser, i'd never previously made it to a dawn ceremony back at home in aotearoa; but being on the other side of the world at a significant cultural event, and knowing most of the artists involved in the exhibition, it was important to me to be there. many of the exhibits were not quite set up when the dawn ceremony took place, but i managed to visit again later and have a proper look. unfortunately the nz exhibition had only been allocated two of the rooms, and some of the exhibits would have benefitted from more space; however there was an impressive variety of work approaching the "second nature" theme from maori and pakeha perspectives and it was great to see so many nz artists represented at isea.
phew; what else? i haven't mentioned our hamaam visit, the bienale and tamiko's AR interventions, meeting the women of the gun project, cocktails at the pera palas hotel, the siemens sanat exhibition or many other adventures.
istanbul is one of those places where every day is an adventure …