It was December 17 1993 when I became the proud owner of Lucy the Valiant, and she was almost 30 then; ten years and thousands of miles later, on 18 December 2003, we set off together on a journey around New Zealand's South Island to celebrate our decade together and her fortieth year.
The journey began with a perfect Cook Strait crossing, and we rolled off the ferry into Picton at 12.30pm and headed south.
Our glorious main state highway offers hairpin bends, uncontrolled railway crossings and numerous single lane bridges. The one pictured at right, crossing the Awatere River just north of Seddon, is particularly special in that the train goes on the top level and cars underneath. I don't know how old it is, let's just say "very old" - and a tad rickety.
Arriving in Kaikoura around 3pm, we stopped for lunch at South Bay. Snowy mountains, turquoise ocean, hot chips ...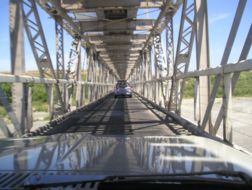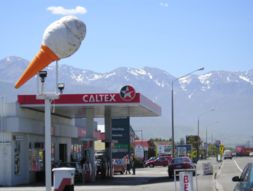 The 11-hour drive to Dunedin was uneventful. Lucy didn't miss a beat, cruising comfortably around 100k along the straights and taking the corners in a manner suitable for a lady of her years. In Christchurch I dropped off my young passengers. A few drops of rain in Timaru made us stop to change a windscreen wiper - which naturally meant the rain also stopped.
In Dunedin, we visited family and friends, such as Tony and Arthur the A40, who must be about 50 by now but still gets Tony to work every day; and Prue and Rob, with their 1951 Citroen and the "new" car, a 1935 Austin 10.
After much socialising and celebrating, I pointed Lucy north-west and we followed the Pigroot into Central Otago's teddy-bear-skin hills. Traffic was light, winds strong.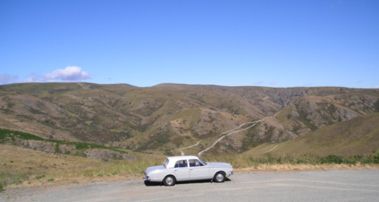 We made good time, leaving Dunedin at 9am and arriving in Wanaka at 12.45, where Mrs Rennie was highly impressed with Lucy. Coffee, sandwiches and chat then we were off again, this time taking the Haast Pass through to the West Coast.
Before getting into the pass, the road snakes alongside Lake Hawea (pictured at left) and then Lake Wanaka - both lakes are surrounded by dramatic mountains and provide plenty of photo opportunities. It's really not possible to have too many pictures of such a photogenic car in such breathtaking landscapes.
The dangerous thing about the Haast Pass is that the scenery keeps dragging your eyes away from the road. Luckily the traffic was also light here, apart from the known tourist spots, and we managed to avoid head-on collisions and other incidents, even while changing tapes and taking action photos.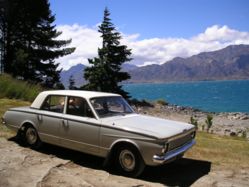 &nbsp:&nbsp: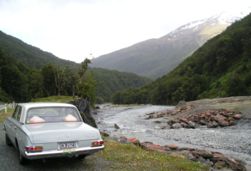 Just before 4.30pm we came out of the mountains and saw the Tasman Sea ahead of us. We hadn't seen a single hitchhiker all day, but a short time later I spotted a couple who had just walked out of the Copland Track, and we took them up to Fox Glacier. This place is a lot more touristy than when I was last here about fifteen years ago, but a little further north, Franz Josef is even more affected. I couldn't even find a park in the main street. But these glitzy international metropolises were not for us; our destination was Hari Hari's luxurious Cransleigh Manor, where a gourmet meal and a bay in the stable had been lovingly prepared for our arrival.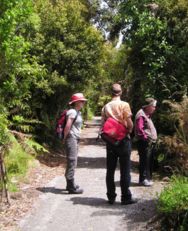 After this marathon coast-to-coast run, Lucy deserved a day of rest, so Vicki, Jimmy, Uncle Euan and I took Dina the Caldina and drove to the coastal packtrack at the Wanganui River mouth. The gentle walk to the beach winds through native bush, swamp and semi-camoflaged whitebaiters' stands.
At the rivermouth stands Mount Oneone, aka the Doughboy, waiting to be scaled. High tide required some clothing removal and wading, so Jimmy and I stripped off and set off, intrepid barefoot explorers.
The view from the top was worth the effort - across the Tasman to Australia (ok, so we couldn't quite make it out) and back over the swamp to the snow-capped Southern Alps (yeah, so the cloud was obscuring the highest peaks ... but we knew they were there).
Meanwhile, Vicki and Uncle Euan had been hard at work building an impressive sand castle; everyone was tired and hungry so we headed home for a nap in the sun. Still keen for adventure, we set out after dinner to the secret hot pools - only to find they're not so secret anymore. Two cars and tourists with a yappy dog ... we clambered over river boulders under a starry sky to a spot where the water was so hot we couldn't keep our feet in, let alone sit or lie in it.
As if that wasn't enough excitement, the next day we went out on Lake Ianthe in the 100 year old paddleboat Tamati for an informative and scenic cruise, then hit the main drag in Hari Hari to hunt for treasures in the op shop.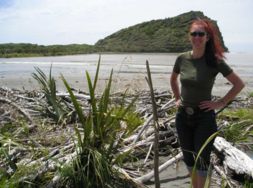 &nbsp: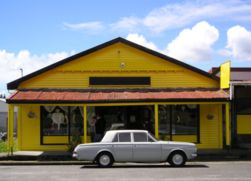 After wild Hari Hari, the next destination was Club Med Mapua. It rained all the way from Greymouth to Murchison, but by the time we reached Mapua it was perfect summer weather. Still hungry for extreme sport activities, I nicked a scooter from an unsuspecting child and attempted wheelies and jumps down the street. Apart from that, it was thankfully sedentary: photos, computers, children, naked buns. And then home.