Hands-on Cyberformance Sessions
These are two-hour practical workshops for theatre practitioners and other artists interested in exploring the possibilities of cyberformance. More information on cyberformance workshops is available or email helen.
The next session is Tuesday 19 February, 7-9pm (NZ time) - email helen if you are interested in attending.
The first cyberformance workshop was held in Brisbane on 5 November 2001. Four participants watched a demonstration by Helen, Vicki and Jack Waters, then had a go with the software. Wellington artists had an opportunity to learn about the project and play with the Palace software on 29 November 2001. Eight people attended, Helen and Vicki were present and Karla, Paolo and Angela were there online to cyberform and guide the participants through the Palace.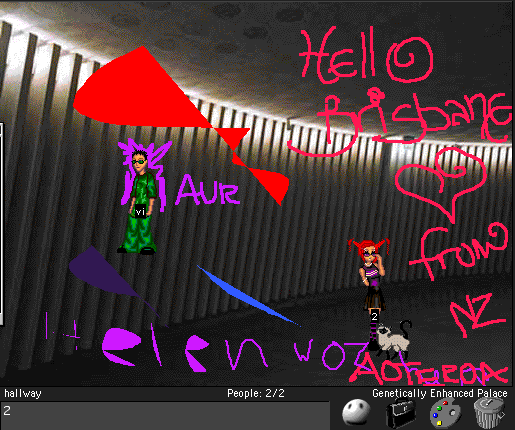 Once let loose on the machines, the participants quickly developed avatar personalities and had a great time. Having ten machines in one room, all with different voices and volumes, meant that we heard our avatars speaking differently from each machine and at different times. It was a cacophony of computerised communication. The jumble of disjointed comments and interruptions that can be confusing enough sometimes was further disrupted by this unpredicatable electric echo effect.

The proximity of the participants was contrary to the usual chatroom situation: normally, chatters are remote, communicating totally through the screen, unseen. We were grouped together in one room. There was some glancing across at others, and moving around to help with the software, but most of the communication was happening online.

In the picture at left, Vicki and Helen are demonstration the painting function of the Palace user client during the Brisbane workshop.

Ý