February
The presentation has been and gone, leaving everyone exhausted and elated. Read our first review. We are busy absorbing audience feedback, mulling over our own thoughts, catching up with all those things that were left undone in our personal lives for the last month, and so on. Watch this space for feedback & thoughts - the audience response, what worked and why, what didn't why, and what next???
January
As the presentation draws closer, rehearsals are stepping up and we have developed some exercises to explore focus, status and silence within the Palace environment. How do these theatrical ideas translate to cyberformance? If a theatre audience is watching us on a projected screen, what do we need to do to ensure that they can understand and follow the performance? We had had our first full rehearsal on the 26th, with minimal technical hitches & excellent feedback from observers.
We discuss the simlarities between cyberformance, Commedia Francais and Commedia del'Arte: minimalism and two-dimensionality; masked performance; stock characters; improvisation; slapstick humour; focus and gesture to convey emotion; symbolic use of props; and the differences, such as brevity and verbosity. See Mika Tuomola's article "Drama in the Digital Domain".
"Just read the log from wednesday's rehearsal. Frst time I've read a log all the way through and the sheer complexity of it is astonishing: the overlapping and competing conversations, inner monologues, confusions, information dispersal, movements between fictions, fluid identities, improvisational tag games, wordplay, stock characterisations, overt playful sexualities, and all this while we are typing, reading, listening and watching, plus interacting in our meatspaces with one or more people or even pretending to be working at something else. And yes, I think someone actually went for a crap. Rather than see palace performance work as 'not really theatre' (re:Odin theatre audience response), maybe its actually a more highly evolved form of theatre practise." Karla, 11 Jan.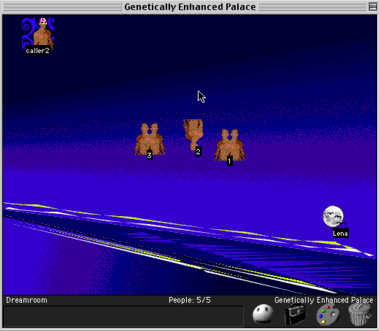 December
We're rehearsing on- and off-line in preparation for February's presentation. Playing with the use of text in the Palace environment - how does direction impact on the sponteneity of this environment? In what ways are we deconstructing and representing the texts we're working with? And what has casting got to do with cyberformance? (to cast or not to cast ...)
November
Our troupe of itinerant avrobats are killed (again) after a performance in Firebirdz Forest. Many "public" palaces are like local pubs - open to the public, but most of the patrons are regulars who won't necessarily respond well to uninvited performers. Someone asks, what are our aims with regard to spectatorship?
Recently we were introduced to one of Leena's bots, Cupid. The bot spouts preprogrammed text in response to trigger words. Our minds are zinging with the potential of bots in performance - but what are the limits? Could all we cyberformers be replaced by bots?
A presentation in Brisbane went well, with the help of Vicki and Jack online. The participants were excited and inspired.
October
We have been rehearsing and performing in the palaces - mostly the Avrobat routine, also Women In Black. Public performances get very mixed receptions - sometimes we are killed, sometimes people seem to like what we do. We have been applauded and murdered. Vicki is developing the "Frenzy" avatar.
September
We experience "liveness" in cyberformance - from rehearsals and costuming to getting into public spaces and being aware of being on stage and having an audience. Speech is a differentiaing factor: in its typed form, it appears in two places, and the actual sound is often heard in delay. Speech literally takes up space - obliterating avatars and interrupting others' speech. It can become layered - sometimes difficult to follow but at other times creating inadvertent meaning.
In the wake of the September 11 attacks, we become Women In Black, silently sliding across Palace rooms. The initial response is subdued - most of the palatians are Americans (USA). Some still think we are wierd.
Philip Auslander's notion of "liveness", Janet Murray's ommissions, Peggy Phelan's assertion that the ontology of performance lies in the live event, Brian Eno's pondering on media as a source of emotional meaning and intimacy ... thoughts on the blurry borders between cyber and live performance. Who is the star of the performance - the actor, the participant, the technician, the director/auteur - or the avatar?
Will technology make the performer a stage hand for the performance, like the black servants in Japanese Noh Theater or Black Theater of puppets of Praga. Technology as a binding energy between the performer and the cyberperformer or the cyber world ... the computer can transform the actor into a cartoon and back.
August
Cyberformance is performance and not theatre ... theatre has come to mean scripted performances that take place in theatres with seated audiences ... that "performance" has more future than "theatre" suggests that the definition of theatre *isn't* changing. Is the word going to be wrapped up in its bad connotations & archived? (& does this matter?)