This research process explores the encounter between the performer and the virtual body in cyberspace: stage merges with screen, cyberformance happens and our concepts of theatre are turned inside out. We will journey through chat-rooms and email lists to discover a theatrical (r)evolution of language, meaning, performance and technology.
The ABC Experiment has been initiated by cyberformer Helen Varley Jamieson, who is engaged in an ongoing exploration of the collision between theatre and the internet. This project is inspired by the audience reaction to a demonstration of cyberformance in Denmark with Desktop Theater.
Cyberformance is a word Helen has coined to describe the new medium of performance in the online environment - theatrical events that take place on the internet, using the internet as a creative medium.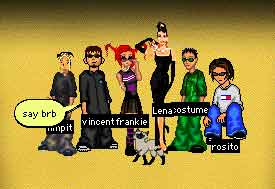 The ABC Experiment has been commissioned by BATS Theatre (Wellington, New Zealand) and is being undertaken by Helen in collaboration with performer Paolo Grippa, visual artist Vicki Smith, digital performance researcher Karla Ptacek, producer Angela Main and chatterbot expert Leena Saarinen. It's a research process that takes the form of an exploration of these questions which arose from the presentation in Denmark:
how is technology changing our definitions of "theatre"?
what place does cyberformance have within theatre?
The ABC Experiment asks you these questions, and invites you to join us in an online journey of exploration, experimentation and discussion at the frontier of new performance technologies.
The ABC Experiment involves:
an email discussion around the questions;

the extracting of images, ideas, theories and possibilities from that discussion, to explore further in cyberformance and on stage;

a theatrical event that presents the results of the process, and that takes place across borders of time, location and media.
We envisage an event in 2002 in which the Avatar and the Body Collide. We will perform some of the findings of our experiment, bringing together remote performers in a live collision.
This project has received development funding from BATS Theatre's "STAB" programme of theatre and technology, which is funded by Creative New Zealand.


background || event || discuss || links || bios