Recently I've been giving quite a lot of presentations, and many of them have been recorded, which is quite nice. Here are some of them – enjoy!
Mobilise/Demobilise presentation at Schaumbad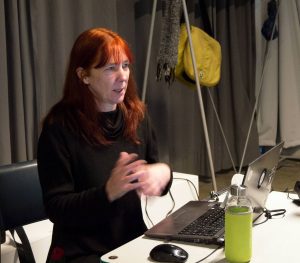 This was part of the workshop I gave at Schaumbad Freies Atelierhaus Graz, in April, for our Mobilise/Demobilise project. I introduced the project, gave a background to cyberformance and my work, and then we started learning how to use the beta version of the new UpStage platform. There were some interruptions in my talk as the projector in the space kept cutting out, which meant that while those viewing the stream (and now the recording) could see everything, the small audience in the room at Schaumbad could not see what I was showing. You'll see me dealing with this in the recording of my talk, available here.
Cyberformance and UpStage presentation at Recto Vrso
This was fun, as the Recto VRso festival and conference took place in Laval Virtual World, and we presenters were trained in how to operate our avatars and give presentations. Presenting as an avatar, giving a talk about avatar performance to an avatar audience, took me back to the 121212 UpStage festival, which included a festival node in Second Life with in-world screenings of UpStage performances. An audience of Second Life avatars watched UpStage performances that were streamed in and shown on a virtual screen.
Update: the catalogue from Recto VRso 2021 is now available to download as a pdf.
Cyberformance presentation at Reconnect Online Performance Festival
This was a very nice invitation to give an indepth talk about cyberformance and my work over the last 20 years at the Reconnect Online Performance Festival, in a panel with one of my long-time cyberformance collaborators, Dr. Christina Papagiannouli. If you are new to the field of cyberformance, both of these talks are a good place to start your journey.
UpStage presentation at r3c
In December the great annual Chaos Computer Club (CCC) meeting became the Remote Chaos Experience (rC3). Gloria and I took to the virtual stage as part of the Feminist Hack Assembly, organised by the Eclectic Tech Carnival, and presented UpStage and the Mobilise/Demobliise project.
Magdalena Project and Magdalena München at Burning Issues
Burning Issues is an initiative to challenge the over-representation of cis-males and under-representation women and other genders in German theatre. They held a conference at Kampnagel in Hamburg last October (just in time before the second lockdown!) and invited Magdalena München to present. It was a good opportunity for networking and exchange. This recording is an interview with me about Magdalena München and the Magdalena Project.