Toilets are great places for art; some of my best friends are toilet artists and one of my favourite art-toilets is Das KloHäuschen. Just the other day I was at an online performance where the artist was performing from her toilet. Toilets are places of peace and contemplation, as well as surprises and discovery – perfect for creating and interacting with art.
My own humble toilet features a changing postcard exhibition. Well, to be honest, "changing" was becoming a bit of an exaggeration as it featured the royal paintings of Mehrangharh Fort in Jodhpur and Cindy Sherman for almost five years – an unusual combination that arose from our travels and cultural encounters of 2016. Having thoroughly contemplated Cindy Sherman's chameleon-like visage along with the sensuous gardens and esoteric yoga images from early 19th century India, we are ready for a change of exhibition.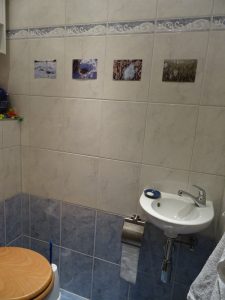 The toilet now features the work of Canadian artist Linda Duvall, whose work "exists at the intersection of collaboration, performance and conversation". In her project "Getting to know you better", I am a recipient of postcards from her which evoke the natural environment where she lives in Saskatoon. Each postcard has a photo on the front, and on the back a short poem or text from a walk or encounter in the environment. In this way, I catch glimpses of wildlife, flora and weather along with snatches of thoughts and observations. Little pearls from a place I have never been but am getting to know.
So far I've received five cards. I don't know how many there will be. The first two featured snowy landscapes, the most recent shows green buds. I am enjoying sitting on the toilet and contemplating these small windows into another world that is making the same transition from winter to spring that is happening outside my windows.