A Month of New Media and Theatre
December 2002


During December 2002, I attended the new media festival Medi@terra in Athens, Greece, and the ANET Festival of Independent Theatre in Belgrade, Yugoslavia. I was there to present Avatar Body Collision's new cyberformance "swim – an exercise in remote intimacy", to sample other work and to network with artists from around the world.
Medi@terra is an annual new media festival, organised by the Fournos Centre for Culture, and took place from 6-10 December. "swim" premiered there, and this was also the first time I'd presented cyberformance at a new media festival (rather than a theatre festival), so I was interested to see what would be different in that context.
We performed "swim" on the opening night of the festival. Due to an airport strike the day before, I had only arrived in Athens on the afternoon of the performance, which meant our tech time was minimal. It also meant no time to get too nervous, and the performance went off without any noticeable hitches. The response was good, with the main comment being that it was nothing like they had ever seen before. High praise indeed, in a world where everything seems to have been done before. But it also makes it difficult for people to discuss the work, as they have no vocabulary or standards by which to gauge it.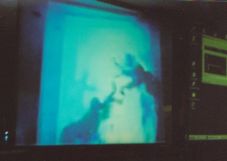 The focus of the festival was on visual arts, with the other work being mainly installations and videos. The only other real performance work was "Teatro Virtuale" by Dogoneff from Barcelona. This project aims to bring theatre to the internet and explore what the internet can bring to theatre. It was initially presented in April 2001, performed in an apartment in Barcelona and broadcast live to the internet; recordings of the five acts can be watched on the web site, www.teatrevirtual-mercatflors.net. At Medi@terra, they presented the fifth act and held a workshop. This workshop was a great opportunity to work with a small multi-national group creating a short performance and broadcasting it live to the net. The group I worked with played with the eight second delay between camera and internet to create surreal layers of people and silhouettes.
Like the work of Avatar Body Collision, "Teatro Virtuale" is an experiment in the meeting of theatre and the internet, but the approach is quite different; in "Teatro Virtuale", the role of the internet is primarily to broadcast a physical performance to a remote audience, whereas "swim" (and "Screen Save Her") uses the internet to bring remote performers together in a physical venue for live performance.

Medi@terra included a conference, where I gave a 20 minute talk about cyberformance and a 2 hour workshop. Unfortunately, this was held in a separate part of the large venue (the former Athens Airport) and not well-signposted, so I think some people didn't realise it was happening, or didn't find it. The speakers I heard were other artists talking about their work, including Monique Nahas and Jocelyne Kiss from Paris talking about Virtual Opera and Isabelle Choiniere from Le Corps Indice, Canada – a dancer who works online.
I didn't have time to see any of the video screenings, and only managed a quick tour of the many interactive installations – the four days were so packed that it was impossible to see everything. CosyCorner – a French project to develop web cam software that displays several web cam images together for performance – was of particular interest, and I managed to spend some time talking to the software developer about it. I wanted to spend more time in iCinema – a user-controlled video projected onto the interior of a huge inflatable dome – but I found it physically hard going, as you had to crane upwards most of the time and follow the head movements of whoever had the special headset on.
One afternoon we were taken to another venue to experience the 3D Cave, where we were shown several different experimental works. The content of some of these works was a bit dated, and it was clear that the funding had gone into the technology rather than the content. Given that 3D Caves cost hundreds of thousands of dollars, it was an odd experience to be a theatre artist and hear these new media artists talk about making "affordable" versions of the technology, like US$20,000.
After an intense four days, I had two days in Athens to rest and then I was off to the ANET Festival. ANET is a collective of independent theatre companies in Belgrade, who (amongst other things) organise an annual festival to show their work and facilitate exchange between Yugoslavian and international independent theatre practitioners. One of the ANET companies is Dah Theatre, who came to the Magdalena Aotearoa festival in Wellington in 1999 and are actively involved in the Magdalena Project. There were also several other women at this festival who I'd met previously at Magdalena events, so it was a welcoming atmosphere.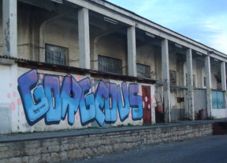 Belgrade is a fascinating city, emerging from ten years of conflict into the complex international situation that exists today. I saw little evidence of the 1999 bombings, but the assemblage of architecture was really interesting: newly renovated grand Austro-Hungarian buildings sat next to their rundown graffiti-covered sisters, and the occasional modern glass facade was placed incongruously next to old inner-city houses. Battered old trolley busses drove on cobbled streets while at Rex Cultural Centre we performed "swim" via broadband without any problems.
The festival programme featured all the ANET companies and their youth companies (part of the "Play Against Violence" project) as well as performers from Novi Sad, Belgium, Amsterdam, Wales and of course the globally-dispersed Avatar Body Collision. There were a number of arts networkers and administrators, from Poland, Eastonia, Slovenia, Siberia and Mongolia, and the two women from Siberia gave a presentation about the situation for independent theatre practitioners in Siberia, the festival SIB-ALTERA and the work they are doing to build contacts in Europe and the West.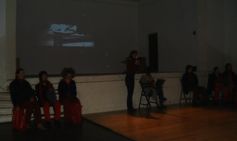 I had the opportuity to work with Jill Greenhalgh on her "Water[war]s" project for the second time, as a kind of technical assistant. I worked with scenographer Antonella Diana and the toys we had to play with included a digital camera, video camera, data projector (or "beamer" as they call them in Belgrade) and our laptops. We followed the performers during the workshop process and used the footage to put together a PowerPoint presentation as a backdrop to the performance.
Once again, "swim" was well received, and this performance felt better than the first. There were some in the audience who had seen a cyberformance presentation I gave two years ago in Denmark, and they were able to appreciate the development of ideas, process and technology. Again, many people said that they'd never seen anything like it before, and were quite blown away by it.
With each performance, we're refining the show, making small changes and improvements and trying new things out. The next scheduled performance is at the Magdalena Australia festival in Brisbane, April 6-16 (although there may be a performance in Wellington in March) and we are also seeking funds to develop software that will enable us to simultaneously present our work on the web.
Attending these festivals was a fantastic opportunity for me to present "swim" in a global context and engage with artists working in related areas. It confirmed for me that Avatar Body Collision is working in relatively uncharted territory, straddling the sometimes enormous divide between performance and new media art. Other artists' responses to and interest in our work was very encouraging, just as it was inspiring to hear them talk about their own work and the arts situation in their own countries.