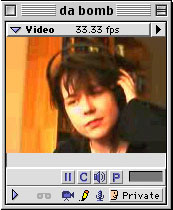 Leena Saarinen (Ma in New Media) is practitioner and researcher of digital media with a special focus on interactive storytelling, cross-media.
Leena is one of the creators of Accidental Lovers (Sydän kierroksella), a participatory black comedy for television and mobile phones. She has participated in several collaborative media art productions including numerous community and collaboration concepts on the Internet.
Having education both in information technology and new media arts, she is a digital caldron of engineering, poetry, interactions, interfaces, media arts, software and drama.
Home page: http://mlab.uiah.fi/~lsaarine/